I did something crazy that I never do - I tried something new! Who am I, right? I am such a creature of habit. I sit in the same place at church. I eat the same thing for breakfast every day. I buy the same shirt in like 5 different colors. I wear a cardigan every day. But this week I decided to go crazy and try the Spirulina Bowl at Bowlology instead of my normal Acai bowl. And guess what? It was delicious!! Are you a creature of habit? Or do you like trying new things?
Now onto TOO Cute Tuesday!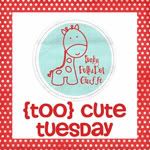 Come link up!
Rules:
Must be made by you.
Link up to the specific post - not your main blog.
No Etsy shops or giveaways please :)
Please post the button or link back here so more people can join in the fun.
Visit some of the other participants and leave them some LOVE!